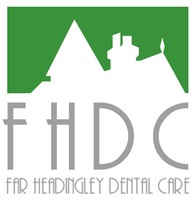 174 Otley Road, Leeds, West Yorkshire, LS16 5LG (Show me directions) Show Map
Monday to Friday: 09:00 to 17:00 , Saturday to Sunday: Closed
Visa, Mastercard, Cash
Profile
Cosmetic Dentist
At Far Headingley Dental Care we recognise that in addition to a healthy mouth, our clients want to have a beautiful mouth too. We ask the question, "If you could wave a magic wand to change anything about your smile, what would you change?"

Whilst we do not claim to be magicians, we are highly proficient at listening to what you would like and then providing you with options to deliver your perfect smile.
Teeth Whitening
Your dentist will discuss your needs and help you choose which option for teeth whitening is most suitable for you. Teeth whitening treatment usually involves using either a professional custom-made home whitening kit or a combination of home whitening and an in-surgery "power" whitening treatment to boost the whitening, remove stains and lighten the colour of the teeth.
Dental Implants
Dental implants are a modern long-term solution for replacing missing teeth. Dental implants can boost self confidence by improving appearance, chewing function and speech.
Teeth Straightening
At Far Headingley Dental Care we provide two solutions for Teeth Straightening. These are the 'Quick Straight Teeth' and 'Six Month Smiles' cosmetic short-term orthodontic systems.
Wedding Dentist
Everybody wants their wedding photos to show off their lovely, youthful, happy smile. At Far Headingley Dental Care we can help your wedding dreams come true by helping you achieve this in time for your wedding day.
General Dental care
Our dental team aims to be able to develop a long lasting relationship with its clients. Often a dentist will look after different generations of the same family. Most people see their dentist more than any other healthcare professional. This creates trusting relationships and helps to allow your dentist to adopt a preventative care approach through advice and monitoring. If problems are identified, solutions will be proposed and discussed. A treatment plan and costs will always be provided so that you fully understand the options available to you.
Add rich content via our editing tools
Remove ads from your listing
Appear more prominently in search results